AMS dating lab Beta Analytic is inviting members of the Society of American Archaeology (SAA) to join the raffle at Booth #300 during the 84th SAA Annual Meeting to be held at the Albuquerque Convention Center in Albuquerque, New Mexico, from April 10-14, 2019.  The lab's VP of Lab Operations Chris Patrick, VP for Business Development and Strategy Florencia Goren, Marketing Specialist Haley Gershon, and Account Manager Tamara Armstrong will also be available to offer advice for any projects.
The winner of this year's raffle will receive a voucher for one standard radiocarbon date worth US$595 (standard turnaround time of 14 business days).
"We are excited to join the 84th Annual SAA meeting where we will promote our radiocarbon dating service available for samples such as bone & teeth, charcoal and wood. In conjunction with carbon-14 dating, our stable isotope analysis is available for non-cremated bones, carbonates, water and various organic materials. Our AMS dating fees for non-cremated bones are inclusive of d13C measurements, d15N measurements, %C, %N and C:N ratio," Ms. Gershon states.
Beta Analytic consistently supports the SAA by joining its annual meetings as an exhibitor. 
The lab will join the next SAA annual meeting to be held in Austin, Texas, on April 22-26, 2020.
---
SAA 2019 Raffle Winner Update:
Congratulations to Ms. Erin Crowley of University of Minnesota
Ms. Crowley is working on her doctoral dissertation, examining animal economies of the Irish Iron Age and the development of a dairy economy in the late Iron Age and Early Medieval Period.
---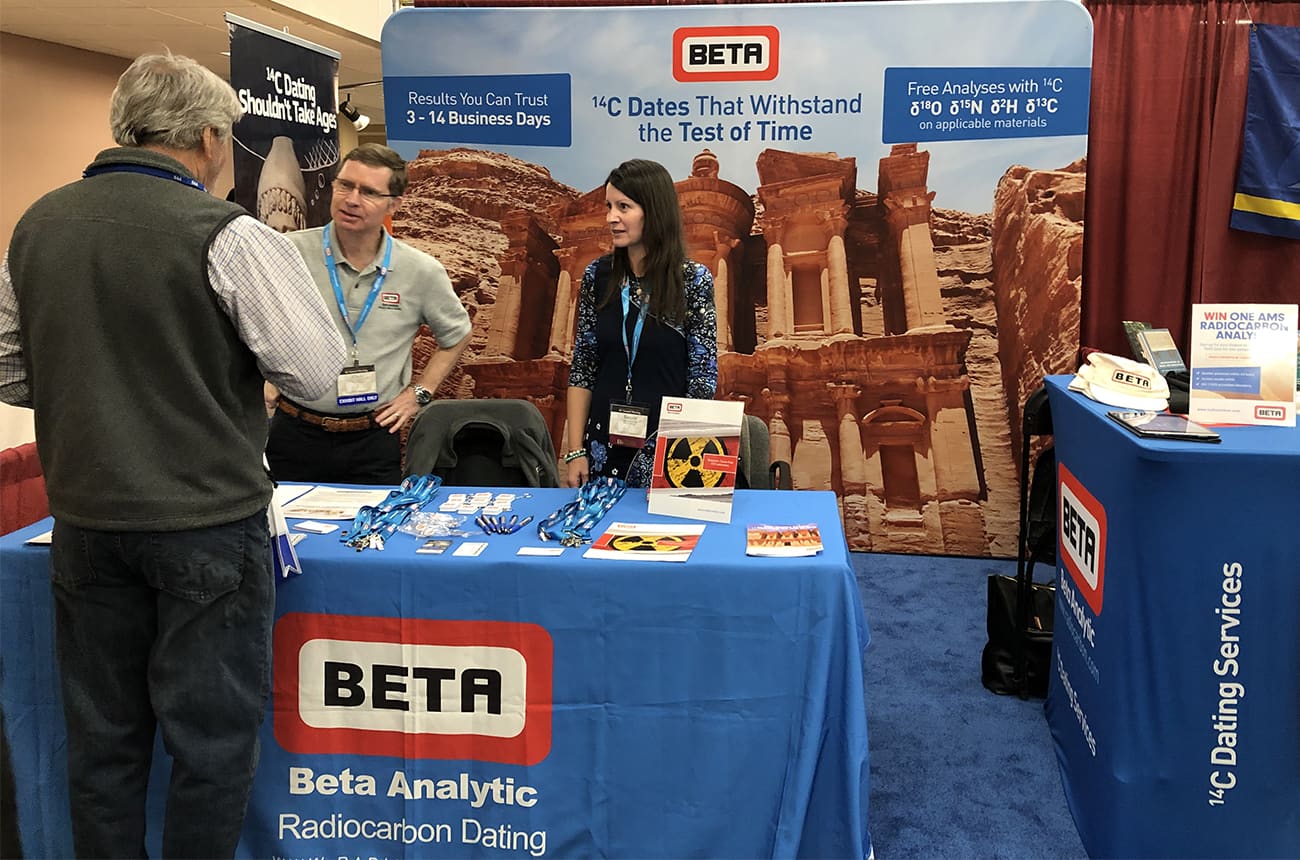 Chris and Tamara at SAA 2019 Annual Conference
Chris and Haley at Booth #300
About the SAA
SAA maintains a membership of over 7,500 professionals representing a variety of backgrounds. The Society promotes and supports the research and protection of American archaeological heritage. It strives to raise awareness and knowledge of the past within the public sphere, promote conservation, and stand against the looting of sites and sale of archaeological materials while bringing together those passionate about American archaeology.
Beta Analytic's AMS Dating & Stable Isotope Analysis Laboratory
Beta Analytic is an ISO 17025-accredited carbon-14 dating and stable isotope laboratory  based in Miami, Florida. The lab uses Accelerator Mass Spectrometry (AMS) technology to provide the most precise and accurate carbon-14 measurements. It also provides stable isotope analysis using isotope ratio mass spectrometers.
The lab is respected worldwide for accuracy, high quality, and customer care.
Samples can be submitted directly to the Miami lab or via forwarding facilities worldwide in Sao Paulo, Brazil; Xiamen, China; London, UK: Nagoya, Japan; Seoul, South Korea; and Taipei, Taiwan.
Radiocarbon Dating Prices
In order to request an estimate or quotation for your radiocarbon dating project,  please email the lab using this contact form or call (+1) 305-667-5167. Please provide the following details:
turnaround time – standard (results reported in 14 business days or less), priority (6 business days or less), time guide (2-3 business days, not applicable to bones)
currency – USD, EUR, GBP, JPY, RMB, KRW, TWD
---
Beta Participation at Past SAA Events – 2018, 2017
Past winners of Beta Analytic Raffle