Radiocarbon Dating Prices & Payment Terms
Radiocarbon Dating Cost — If you need a quote or information about our prices, please contact us using this form.
---
NOTE: Materials with commercial value are not accepted.
Beta Analytic does not undertake the dating of manuscripts, objects of art or other valuable or priceless items unless they are submitted and paid for by a recognized governmental agency, major museum, or other official agency that is investigating the materials as part of multidisciplinary scholarly process.
The lab does not analyze antiques, books, manuscripts or materials of a religious nature or items which are commonly sold in the antiquities markets, or materials for personal research (e.g. wood from an ancestral house, metals/coins, bones from a random dig, etc.).
---
Payment Methods & Terms
RECOMMENDED PAYMENT METHODS — Wire transfer and credit card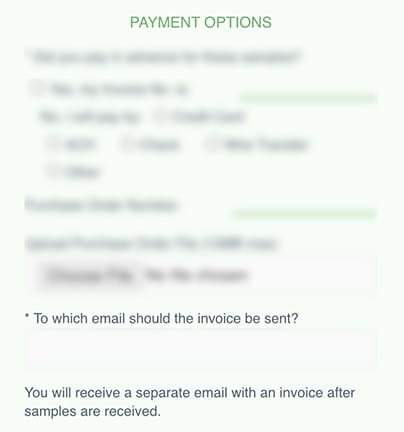 INVOICE — The analysis starts immediately upon receipt of the samples. After pretreatment has been completed, the invoice will be generated and sent to the email address that was provided under Payment Options on the online submission form.
PURCHASE ORDERS (PO) — A PO is a document provided by your billing department indicating that the order has been accepted and registered for payment. Having a PO may speed up the process of reporting the results. Contact our Billing Department (billing@betalabservices.com) to confirm your payment terms with us (Net 15, Net 30, etc.). Terms must be agreed by both parties.
Beta Analytic will only accept Purchase Orders that comply with the following minimum requirements:
Legible and printed on the official institution, governmental or company letterhead or equivalent stationery in PDF file format;
Include the Payment Terms agreed by both parties;
Must have a PO number and date of approval by your Accounting Department or authority;
Must indicate your mailing address and email as well as the primary contact information of your Accounts Payable or Accounting department (contact name and phone number);
Include the physical address and email to which to send the invoice AND any special instructions needed for submitting invoices for prompt payment;
Should be signed and/or stamped by an authorized approver;
Our laboratory's name and address should appear as follows:
Beta Analytic, Inc.
4985 SW 74th Court
Miami, Florida 33155
United States
Tel: (+1) 305-396-6144
Email: billing@betalabservices.com
The PO should also include the:
Specific tests to be performed with the delivery times;
Number of samples to be tested;
Price per sample and total amount due to Beta Analytic with the currency of the invoice.
If you received an estimate from a Beta Analytic account manager, please include the Estimate Number on the PO.
PREPAYMENTS — You can also request an advance invoice if you prefer to prepay your samples or keep the credit for future analysis. Note though that refunds are NOT permitted once the funds are deposited and that deposits can only be used for future analyses at the latest published prices.

Limitation of Liability
Client acknowledges and agrees that Beta Analytic's role in furnishing Services is merely to analyze Material Sample(s) and issue a Report detailing Beta Analytic's findings. Please read our full Terms & Conditions here: https://www.radiocarbon.com/tc.pdf
More about Beta Analytic:
Page last updated: September 2022