The American Cultural Resources Association (ACRA) invites professionals and students working with bone samples to join its upcoming webinar.
Bones: Isotopes in Dating, Diets and Migration Studies
Live Webinar: April 14, 2022 * Available on Demand *
Presenters: Prof. James Watson (Arizona State Museum Associate Director) & Maren Pauly, PhD (Scientific Associate for Beta Analytic & Isobar Science)
All about Bones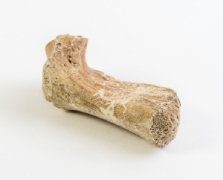 By joining this webinar, you will learn:
This presentation will also cover marine reservoir effects, diagenesis and other common issues as well as isotopic studies involving carbon, nitrogen, oxygen, strontium, and lead isotopes. Applications like migration studies and dietary reconstructions will also be discussed.
The Presenters
James Watson, PhD (Associate Director, Arizona State Museum) – Prof. Watson is Arizona State Museum's Curator of Bioarchaeology and a Professor of Anthropology at the University of Arizona.
Maren Pauly, PhD (Scientific Associate for Beta Analytic & Isobar Science) – Dr. Pauly is a paleoclimatologist who completed her Master of Science and Bachelor of Science degrees at the University of Waterloo in Canada and her PhD at the Freie Universität Berlin. Her research experience includes reconstructing climate from modern corals and subfossil tree-rings as well as Late Glacial radiocarbon calibration.
ACRA & Beta Analytic
ACRA is a national network of professional members and service partners representing the cultural resource management (CRM) industry and associated fields of study. The association provides its members with tools, know-how, networking, and other opportunities to excel as businesses.
ISO 17025-accredited Beta Analytic has provided radiocarbon dating services to the CRM industry since 1979. The Miami-based laboratory also offers stable isotope analysis of bones, carbonates and water samples.
ACRA & Beta Analytic's first webinar collaboration presented the basics of radiocarbon dating. The webinar is available on demand for a fee.
Join our mailing list to receive news of upcoming webinars by Beta and its subsidiaries as well as other industry updates.
For inquiries on Beta Analytic's services for bones, please contact the lab using this form. For price inquiries on U-Th Dating, strontium analysis or lead analysis of bones, feel free to contact Beta subsidiary Isobar Science.