Sample size recommended (smaller AMS sizes possible – please
contact us
)
1-4 grams of non-heated bones, cremated bones and antlers
2-10 grams of heated bones
0.5-5 grams of fully charred bones
1-2 human teeth
Recommended container
Ziplock Bags for bones, antler, teeth
For extracted collagen, use Aluminum foil or plastic/glass vial with a screw top before placing in a Ziplock bag
Please send your samples in small boxes instead of envelopes to protect the samples from being crushed during shipment.
We offer ultrafiltration subsequent to conventional collagen extraction methods.
Note – Fees are inclusive of d13C measurements, d15N measurements (except cremated bones), quality assurance reports, calendar calibration when applicable, and 24/7 web access to past results and pending analyses. Additional fee is charged for collagen or bone carbonate extraction.
The d13C and d15N ratios are measured using an isotope ratio mass spectrometer (IRMS). We may not be able to provide d15N measurements for charred or heated bones depending on the sample quality. Please contact us before submitting heated bones.
Beta Analytic also provides %C, %N, C:N and % collagen yield at no additional cost for non-cremated bones submitted for AMS dating.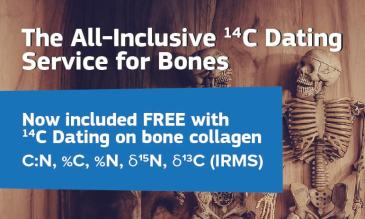 The % collagen yield test is performed on a small sub-sample of the submitted bone. It is determined without the alkali pretreatment step since the alkali reduces the collagen content significantly while removing contamination and gives false % collagen yield results. VERY IMPORTANT: It is well known that collagen preservation is not homogenous throughout bone fragments. It is possible the small sub-sample taken for the % collagen yield test is not representative of the entire bone. The % collagen yield value should not be used as a unique identifier of bone collagen quality because it can be very misleading. The C:N, %C and %N results are much better indicators of good collagen.
Pretreatment – It is important to understand the pretreatment applied to samples since they directly affect the final result. For bones, we provide conventional collagen extraction techniques and subsequent ultrafiltration methods if requested. If you require ultrafiltration, please contact us before sending your samples.
Radiocarbon Dating Cost
Please use this contact form to inquire on radiocarbon dating prices. When requesting for an estimate/quotation, please indicate the currency, number of samples, service requested/turnaround time (AMS standard or priority), type (non-heated, fully charred or cremated bones) and the billing address. 
AMS Dating Different Types of Bones
If you are unsure which category your bone samples belong to, please send them to our radiocarbon dating lab. We will examine them and advise if they are datable and by what technique.
More Information on Carbon Dating Human Bones
Radiocarbon Dating Bones with PVA
Components of a Bone
Time-width of Bone Samples
Bone Sample Contamination
Effect of Contaminants on AMS Carbon Dating Results
Physical Pretreatment of Bones in AMS Labs
Chemical Pretreatment of Bones in AMS Labs