Cost of Carbon Dating
Please provide the AMS service/turnaround time selected (Standard, Priority or Time Guide), the number of phytolith samples, and the name and address of the paying institution when requesting for a formal estimate/quotation.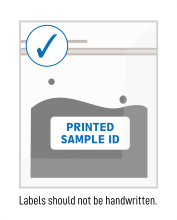 Fees are inclusive of quality assurance reports, calendar calibration when applicable, and 24/7 web access to past results and pending analyses.
---
Pretreatment – Generally no pretreatments are applied in the lab and we analyze the submitted material. However, we will test a sub-sample for carbonate with an acid wash or, upon instruction, apply a full acid wash in the case of known carbonates.
Sample Selection – Phytoliths should arrive already extracted and ready for analysis as the laboratory does not have extraction capabilities at this time. If you do your own extractions please do not evaporate your sample dry in solvents such as acetone or hexane. The final steps should be performed with a final hydrophilic solvent such as acetone followed by multiple rinses in high-grade water (deionized, milli-Q, distilled) prior to drying.
AMS Dating Phytoliths
Beta Analytic's methodology for radiocarbon dating phytoliths can be found in "2003 Piperno, Dolores R. and Karen E. Stothert; Phytolith Evidence for Early Holocene Cucurbita Domestication in Southwest Ecuador. Science 299:1054-1057."
Phytoliths submitted in extracted, isolated, and clean form can be routinely dated using 200-400 milligrams.
Our methodology to produce a date representative of the time of formation of the phytoliths is dependent on:
(1) the purity of the phytoliths submitted or
(2) the age of the other organic materials the same age as the phytoliths if pure phytolith is not possible for dating.
The confidence in the AMS dating results depends on the submitter's confidence in the integrity of the samples.
What are Phytoliths?
According to the Smithsonian National Museum of Natural History, phytoliths are microscopic pieces of silica that form in the cells of many kinds of plants. They stay well-preserved even after the plants die and decay. Because of this unique feature, phytoliths are used by archaelogists and paleoecologists to identify plant remains in varied contexts. Dr. Dolores Piperno, a member of the National Academy of Sciences, is credited to be one of the first few researchers who used phytoliths in an archaeological context. In her research, phytoliths were used for documenting prehistoric agriculture in tropical zones.
Image credit: Benjamin Gadet (licensed under CC BY-SA 3.0)