Cost of Carbon Dating
To provide you with the appropriate prices, please let us know the AMS service/turnaround time you've selected (Standard, Priority or Time Guide). If you need a formal quotation, please indicate in this form the number of samples for analysis and the paying institution's billing address.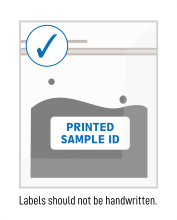 Fees are inclusive of quality assurance reports, calendar calibration when applicable, and 24/7 web access to past results and pending analyses.
---
Pretreatment – Laboratory pretreatments are not possible. Pollen samples must be submitted "ready for analysis".
Extracted Pollen – We do not extract pollen for AMS dating. We will need about 5-15 mg of extracted pollen free from any sediment material. A good reference for pollen extraction is the work by Brown et al. (1989): Radiocarbon Dating of Pollen by Accelerator Mass Spectrometry. Quaternary Research 32: 205-212.
Sample must be Neutral (pH 6-8) – The extract should not be acidic for AMS dating to be possible. When enough sample is available, a small portion will be tested to ensure neutrality. If the extract is acidic, it will be rinsed with de-ionized water to achieve a neutral pH level. However, loss of sample mass may occur during this process.
Recommended Packaging – You can use plastic snap cap microcentrifuge tubes (1.5-3cc in volume) as container of the extracted pollen. Place the tubes in separate labeled Ziplock bags during transport. We also recommend sending your samples in small boxes whenever possible (instead of using envelopes) to protect the physical integrity of the samples during shipment. The equipment used by postal services typically run envelopes through rollers during the automated sorting process.
AMS Dating Extracted Pollen
The laboratory typically needs 5-15 mg of extracted pollen (approximate dry weight) for dating depending on carbon content. It is important to ensure that all of the carbonates (CaCO3) have been completely removed so there is no further mass reduction prior to combustion of the sample.
Occasionally the lab receives samples identified as "pollen" but when viewed under the microscope consists of many components including sediment, fibers, and plant material. In such cases, the lab will ask you to decide whether to proceed or cancel the analysis. If you proceed, the analyzed material will be listed in the results report as "organic material" and not "pollen".