How to Collect Groundwater Samples for Radiocarbon Dating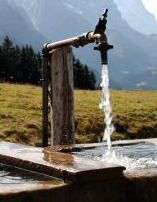 The application of radiocarbon dating to ground water analysis can offer a technique to predict the over-pumping of the aquifer before it becomes contaminated or overexploited, see sample study "Surface water contamination and remediation" (pdf).
Water samples for carbon 14 dating should be collected at the wellhead and placed into a clean, single-use, one-liter wide-mouthed Nalgene (or equivalent) bottle. Allow the well water to flush out the inside thoroughly and then dump the contents prior to filling. Allow the water to flow out of the source for a period of several minutes prior to filling the bottle.
Fill the bottle up to the base of the neck and add a small amount of NaOH before tightening the cap securely. Place a tape seal around the cap/bottle joint to ensure the lack of exchange or loss of CO2 from the water. Mark the bottle with the appropriate sample identification number in indelible ink or on a non-removable tamper-proof label.
Sampling Procedures

For ground water dating, the AMS technique is most common due to the reduced physical labor for the collection of the sample in the field and, afterwards, the laboratory. With a sample sent for AMS dating, we need one liter of the well water. A standard wide-mouth plastic bottle available in all chemical supply firms is generally used. One gram of sodium hydroxide should be added initially to the sample bottle to fix the carbonate species. Please note that the persons sampling the well or working in the laboratory should not be wearing luminous watches - this can cause tritium contamination.
IMPORTANT - When filling the bottle, please leave a small space at the top (keep the neck of the bottle empty). This should allow for any necessary expansion during shipment.


Recommended Sample Packaging
Please put the bottles inside a plastic bag and seal the bag with a zip-tie or duct tape. If any of the bottles leak during shipment, the water will not weaken the cardboard shipping container.
When sending your groundwater samples for radiocarbon dating, place the bottles in a sturdy cardboard box with sufficient packing to prevent breakage during shipment. We recommend commercial courier or first-class mail when sending the samples to the lab.
Please fill out our online form or send printed data sheets (pdf) together with the samples. There is no need to send the printed data sheets if you send sample details via our online form. See detailed shipping instructions in our Send Samples page.
Lab SOPs Upon Receiving Samples
Upon receipt at Beta Analytic's carbon dating laboratory, company associates will inform you by e-mail or fax about your samples' safe arrival. The company representatives will also quote you a delivery date of the carbon dating results (usually within 2 to 14 business days depending on the services requested).